- Presentation -
The LOBYC ® computer program is a friendly graphical interface application that allows users the issuance of the load and balance sheet ( loadsheet ), as well as the LIR ( Loading Instruction Report ), NOTOC, Payload, Trip Info, etc., in a rapid, sure and easy way.

Besides, together with the issuance of the loadsheet, the program also automatically generates allied messages, like CPM, LDM, UCM, etc. for subsequent forwarding by other means of communication ( route telex, e-mail, SMS's to cellular phones, fax, ACARS, etc ).
The center of gravity is critical to the aircraft's ability to fly, a determination of the aircraft's center of gravity and total weight is necessary, and, required by the FAA, EU-OPS and most other Civil Aviation Authorities before every take-off. An overloaded or improperly balanced aircraft will require more power and greater fuel consumption to maintain flight, and the stability and controllability will be seriously affected. The loadsheet must reflect the actual load of the aircraft prior take-off and must be prepared in accordance with the Airline's and official regulations. The loadsheet agent must consider the center of gravity parameters affecting fuel consumption and give his signature on the document for captain approval. The Commander shall approve the weight and balance document by checking and signing the loadsheet.
By loading the aircraft at or near the aft limit the aircraft will climb faster, cruise faster and save fuel.
The time you need to prepare a manual loadsheet is about 7 - 12 minutes. With LOBYC ® program ---> less than 1 minute ... and NO MATH MISTAKES !
LOBYC ® has surpassed all of the standards of the airlines to which it has been presented up to this date ( Germania, Futura International Airways, Air Europa, Air Class, Wizz Air, Blue Air, Flyant, Saicus, Star1 Airlines, Vueling, Primera Air Scandinavia, Air Nostrum, Volotea, Binter Canarias, etc. ) and is currently in use by different customers in differents countries.
But LOBYC ® does not only allows loadsheets to be prepared in less than 1 minute. A summary of its multiple advantages is enclosed herewith.
LOBYC ® is definitely the alternative to manual loadsheet because it's fast, easy and accurate.
<![if !vml]>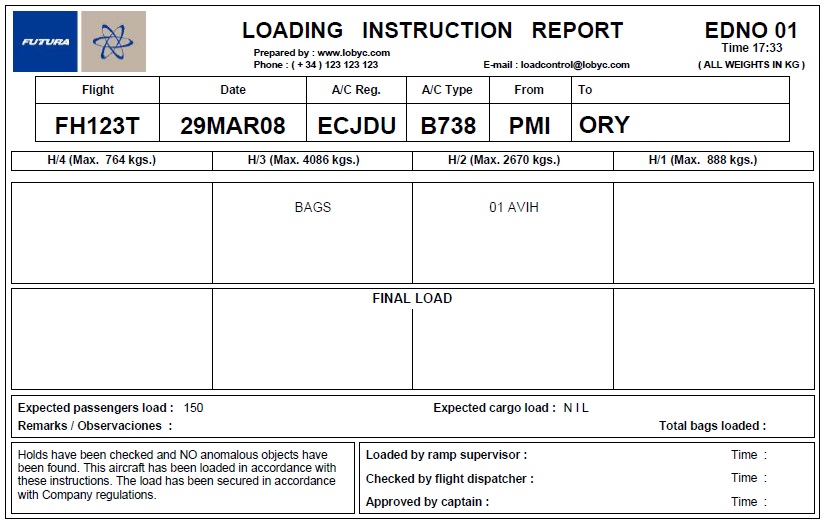 <![endif]>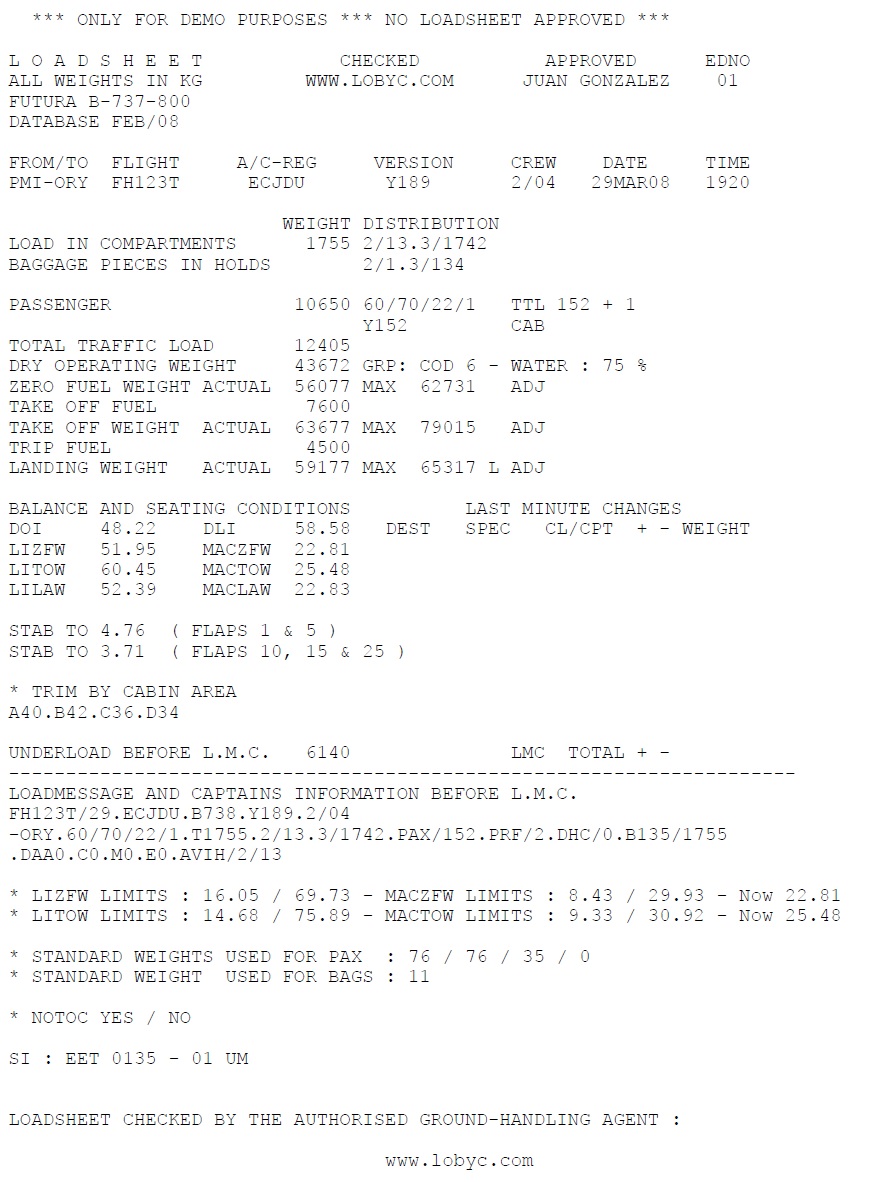 Example of loadsheet in ACARS format :
LOADSHEET EDNO 01
FY111C/30.ECKKJ.B734F.CARGO.2/0
-LPA.T23198.4/130.A/1550.B/3287.C/3108.D/3659.E/3728.F/7736.C21594
.M0.E0.RMD/B/3086
-TFN.T18067.3/3347.G/2525.H/4416.J/4280.K/3499.C17064.M0.E0
TOTAL TRAFFIC LOAD 41265 UNDERLOAD 558
DOW 70877 DOI 20.50
TAKE OFF FUEL 21300 TRIP FUEL 13000
AZFW 112142 MAX 113000 MACZFW 20.93
ATOW 133442 MAX 142500 MACTOW 20.23
ALAW 120442 MAX 121000 L MACLAW 19.39
STAB TO 3.47 ( FLAPS 1 & 5 )
STAB TO 2.72 ( FLAPS 15 )
SI : CAPT. LÓPEZ - EET 0222
MX QU PMIFWFH PMIOWFH MADKQIB LPAGFXH TFNGFXH
.MADAPXH
LDM
FY111C/30.ECKKJ.B734F.CARGO.2/0
-LPA.T23198.4/130.A/1550.B/3287.C/3108.D/3659.E/3728.F/7736.C21594
.M0.E0.RMD/B/3086
-TFN.T18067.3/3347.G/2525.H/4416.J/4280.K/3499.C17064.M0.E0
SI : CAPT. LÓPEZ - EET 0222

MX QU PMIFWFH PMIOWFH MADKQIB LPAGFXH TFNGFXH
.MADAPXH
CPM
FY111C/30.ECKKJ.B734F.MAD
-1/N
-2/N
-3/TFN/3347/C
-4/LPA/130/C
-A/PAJ0048FYA/LPA/1550/C
-B/PAJ0060FYA/LPA/3287/C.RMD
-C/AAC8488DHL/LPA/3108/C
-D/AAC8326DHL/LPA/3659/C
-E/PAJ0008FYA/LPA/3728/C
-F/PAJ0074FYA/LPA/7736/C
-G/PAJ0068FYA/TFN/2525/C
-H/PAJ0033FYA/TFN/4416/C
-J/AAC8657DHL/TFN/4280/C
-K/PAJ0003FYA/TFN/3499/C

SI: ALL WEIGHTS IN LBS

MX QU PMIFWFH PMIOWFH MADKQIB LPAGFXH TFNGFXH
.MADAPXH
UCM
FY111C/30.MAD
OUT
.PAJ0048FYA.PAJ0060FYA.AAC8488DHL.AAC8326DHL.PAJ0008FYA
.PAJ0074FYA.PAJ0068FYA.PAJ0033FYA.AAC8657DHL.PAJ0003FYA